Ways of considering thickness metal on indicators coercive force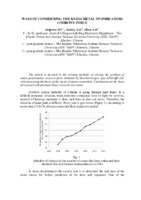 Анотація
The article is devoted to the existing methods of solving the problem of under-performance coercive force obtained by Structuroscopes type KРM-ЦК-2M, with increasing thickness of the metal elements controlled. Conclusions on the basis of research and planned future research directions
Ключові слова
industry of Ukraine
,
variable cross section
,
algorithm method
,
steels
,
methods of certified samples
Бібліографічний опис
Grigorov O. V. Ways of considering thickness metal on indicators coercive force / O. V. Grigorov, S. O. Gubsky, A. O. Okun // XXVI MicroCAD International Scientific Conference, J section : Material Flow Systems. Logistical Information Technology and Technical Language (29-30 March, 2012, Miskolc, Hungary). – Miskolc : University of Miskolc, 2012. – p. J61-J67.